Directory of Indian Manufacturing Capabilities for Defence & Aerospace is a e-platform, created under the aegis of Confederation of Indian Industry and Society of Indian Defence Manufactures, which has been designed to be definitive guide of capability of Indian Defence and Aerospace Industry.
Indian Defence and Aerospace Industry landscape is evolving under several policy narratives of Government of India. These include
Defence Procurement Procedure 2016 and enabling provisions such higher priority for "Make in India" categories for procurement, applicability of offsets for Buy (Global) and "buy and Make" categories which entail import through contracts (more than Rs 2000 Cr) with foreign vendors, "Make" procedure, Strategic Partnership Model for select segments of fighter aircraft, helicopters, submarines and Armoured Fighting vehicles for growth and development of Indian industry
Purchase preference for Indian Manufacturers of select products, with specified Indigenous Content, under Public Procurement Policy 2017
Defence Production Policy 2018 that aims to enhance indigenous manufacturing and also export revenue
Creation of Defence Industry corridors
Defence Acquisition Wings to identify Indian companies for issuance of Request for Proposals (RFPs)
Foreign Embassies / High Commissions in India, Indian Embassies abroad and MoU Partners of CII for matchmaking
Defence Research and Development Organisation (DRDO) to identify companies for R&D activities and take forward the research output for industrial production and commercialisation.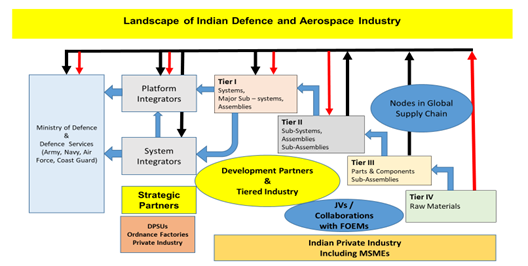 The "Directory of Indian Manufacturing Capabilities for Defence & Aerospace" is an attempt to supplement the vision of 'Make in India' and to enable greater participation of the Industry in defence sector.
The directory aims to create the listing of each of the Indian industry participants, in the landscape shown above, along with their capability, products and potential. Hence, as it develops, it will provide a comprehensive view of the Indian Defence and Aerospace industry capability as well as potential.
This Directory will facilitate all stakeholders – Customer Organisations to identify industry capabilities, Platform / System Integrators to select their Tiered partners, Foreign Vendors to find right fit for their technology and production collaborations / Joint Ventures and select Indian Offset Partners (IOPs). and enable partnerships across the tiers.
The directory provides listing of companies with due mapping of competency and status of certification, product/process approvals and registration with defence organisations/industry. This directory serves as ready reckoner to:
Procurement Organisations to identify Indian Companies for Product / Project briefings as well as issuance of Notices for Request for Information (RFIs) / Expression of Interest
The procurement agencies to identify right companies to source their products from.
Foreign OEMs / companies to identify potential Indian companies as 'Offset Partners' for Joint Ventures and Technology Tie-ups.
Defence Research and Development Organisation (DRDO) to identify Development cum Production partners among Indian Industry
The Directory broadly categories the companies based on their product / service offerings in the following domains and related sub-domains
Air Systems
Land Systems
Marine Systems
Homeland Security
Space